Raising the Bar for Oregon a huge
success!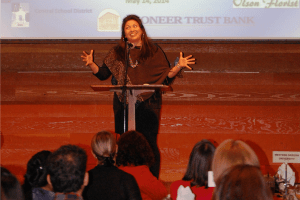 Salem/Keizer Coalition for Equality's third Annual Raising the Bar for Oregon took place in the beautiful Cedar Hall of Salem Alliance Church in Salem, Oregon. The event, a fundraising luncheon for the last two years, has the motto of "Expect More, Do More, Give More," and was attended by nearly 150 people. Rob Saxton, Deputy Superintendent of Public Instruction, was the keynote speaker and spoke powerfully to all who are invested in the success of Oregon's education reform, and the educational success of our children and youth.
Guest speaker Shadiin Garcia (pronounced "Shawn-deen"), OEIB Research and Policy Analyst, focused especially on our children and families of color, of different ethnicities and cultures, and of those speaking a language other than English. The event concluded with Jim Seymour, Executive Director of Catholic Community Services, telling a powerful story from his childhood to ask all attendees to open their pocketbooks for our children's education. The attendees–education institutions, not-for-profit organizations, businesses and philanthropists–went home with renewed motivation to keep up the good work while also improving their work to increase the success of all our children in school.
We want to profusely thank our sponsors, Pioneer Trust Bank, Salem Health, Central School District, Olsen's Florist and Salem Alliance Church; and our table sponsors, Western Oregon University, Central School District, Salem-Keizer School District, Salem Chamber of Commerce, CAUSA Immigrant Rights Coalition, Eastern Oregon University, Chief Education Officer Dr. Nancy Golden, Silverton Health, Greater Albany School District and Woodburn School District.
The annual May event featured a delicious salad catered by Alfredo Prieto, owner of the Baja Fresh located at Lancaster and Center. We are already looking forward to finding new powerful keynote speakers and presenters for May 2016 and increasing the size of our venue.
See the videos shown at this year's luncheon.
GDE Error: Error retrieving file – if necessary turn off error checking (404:Not Found)
Sign up for SKCE Newsletter