Thank You for Helping Us to Meet
Our Goal!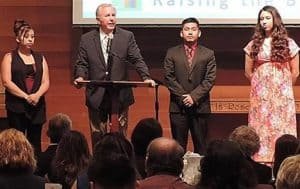 Thank You!
You made our 2016 Annual Luncheon,
Raising the Bar for Oregon,
a huge success!
Thank you for helping us reach our goal!
What a powerful event we had last Wednesday May 18th!
Salam Noor, Deputy Superintendent of Oregon, delivered a powerful speech to spur us to action on increasing parent and community engagement in schools as one of the most critical factors in closing the achievement gap.
Shamir Cervantes, former student body president of Willamette University, moved the audience to a standing ovation after baring his heart and his life experience as a brown Mexican son of Migrant farmworkers.
Celia Flores, daughter of parents involved in SKCE's parent programs for over 12 years, brought the audience to tears as she shared her pride and gratefulness for her family's difficult and successful journey and her mother's determination.
Maria Isabel Saldaña, freshman at Willamette University and daughter of SKCE participants, eloquently shared the meaning of her journey to becoming a DACA student.
Finally, Eric Lindauer, former president of the Oregon Community Foundation and founder of the Latino Partnership Project, asked you to give, to assure that hundreds more parents will have the opportunity to empower their families.
And you responded! You raised $5,720–enough to provide more than 30 parents with a series of engaging classes about communication, understanding the education system or preventing risky behaviors.
SKCE belongs to the parents, to the community, to you!
Sign up for SKCE Newsletter